You and your customers can get there from here!
An efficient and dependable transportation infrastructure is essential for maintaining a profitable business. Buchanan County is served by quality highways, two railroads and two commercial airports. In addition, barge service is just 72 miles away at the Port of Dubuque.
Our location in the heart of the America enables you to proficiently interact with your customers. You can easily service the 23% of America's population who lives within 500 miles of Buchanan County.
Des Moines  ||  151 miles  ||  2 hrs 25 min
Madison  ||  163 miles  ||  2 hrs  45 min
Twin Cities  ||  216 miles  ||  3 hrs 51 min
Chicago  ||  248 miles  ||  4 hrs  27 min
Omaha  ||  285 miles  ||  4 hrs 25 min
St. Louis  ||  323 miles  ||  5 hrs  27 min
Kansas City  ||  344 miles  ||  5 hrs 12 min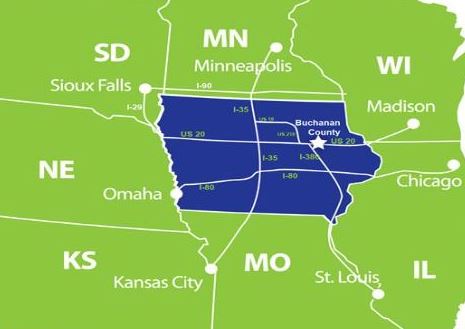 I-380 / Avenue of the Saints
4-lane U.S. Highway 20
Iowa Highway 150
Canadian National  ||  Bisects Buchanan County East to West
Iowa Northern  ||  Local short-line serving Buchanan County and providing connecting links to the Union Pacific Railroad
Independence Municipal Airport  ||  One of just four enhanced services airports in Iowa. This newly renovated and expanded facility offers around the clock ground service, private hangers, on duty mechanic and Jet A fuel supply. 5,500' x 100' runway.
Waterloo Regional Airport  ||  28 miles away with connections to Chicago and Minneapolis.
Eastern Iowa Airport  ||  48 miles away in Cedar Rapids. Five airlines offering non-stop flights to 11 cities throughout the U.S.