BCEDC Key Business Grant Program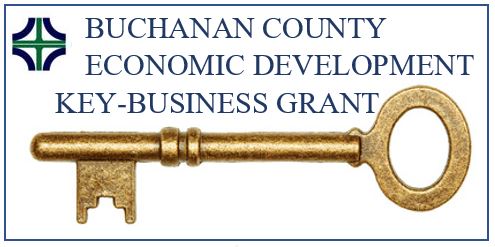 Creativity and thinking outside the box are ways that the Buchanan County Economic Development Commission (BCEDC) continues to provide resources to its communities and businesses. BCEDC's most recent innovation is the Key Business Grant for communities within Buchanan County. The Key Business Grant's purpose is to grow and maintain the economic base of Buchanan County by assisting its communities in their efforts to attract and keep businesses that are vital to the community's economic and social wellbeing. It does this by providing supplemental financing in support of attracting or keeping a Key-Business in a Buchanan County Community.
What are key businesses, might be the question. The answer is different for every community, but some examples could include a grocery store or gas station.  The program will make grants for the following purposes:
To facilitate the economic and social viability of Buchanan County communities.
To offer financial assistance that assist in attracting or retaining a business that is vital to the economic and social wellbeing of a community.
To diversify the community's economic composition by encouraging unique or essential business startups and expansions in Buchanan County.
Funded projects must have the objective to make investment into the community's tax base, create and retain permanent jobs or provide a unique service within the communities of Buchanan County. BCEDC is working with the University of Northern Iowa's Small Business Development Center (SBDC) which has agreed to support this program by providing technical assistance to the applicants and assisting in evaluating requests for funding. For the full Program Guidelines click HERE .
Projects will be reviewed by the Key Business Grant Review Committee. To find out more about the Key Business Grant or get an application contact BCEDC Director Lisa Kremer at director@growbuchanan.com phone 319-334-7497.