Power of Kindness at Work Lunch & Learn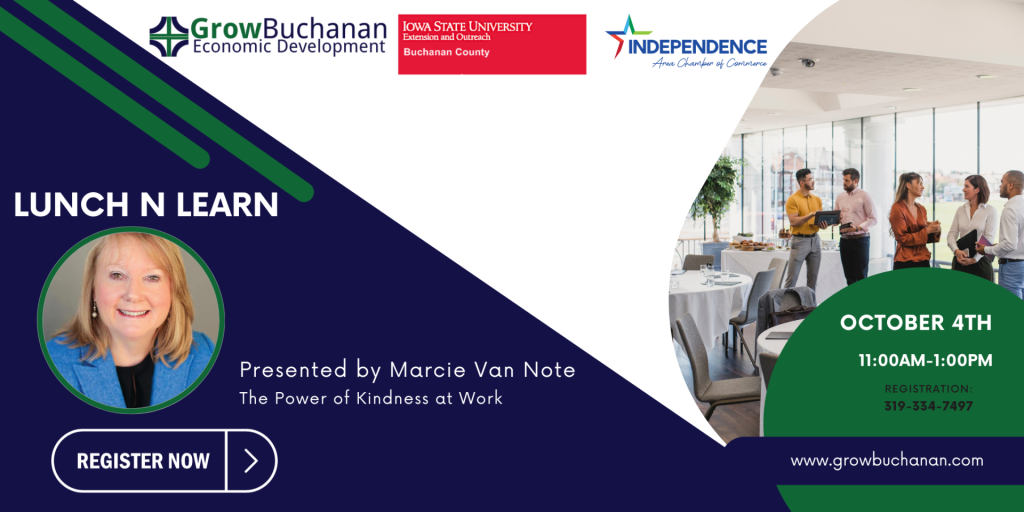 Join us along with Independence Area Chamber of Commerce and Buchanan County ISU Extension and Outreach for our upcoming Lunch and Learn. Marcie Van Note will present on Positivity in the Workplace. We will meet at Heartland Acres Event Center on October 4th from 11am-1pm.
Businesses are often looking for ways to increase productivity, create stronger team work and collaboration and reduce turnover. Research demonstrates that employees who are happier at work show as much as a 31% higher level of productivity, are more resilient and suffer less burnout which results in lower turnover rates overall. Presenter Marcie Van Note will provide tools to help employers and employees create and tap into positivity in the workplace including:
Examining how happiness drives success not vice versa
Sharing Success Stores – Who gets it – how it matters
Discussing what causes people to get stuck in a rut of negative thinking
Applying the Ripple Effect to demonstrate how negativity and happiness spread in the workplace
Exploring techniques to train the brain to be more positive
Review how to reduce multi-tasking to improve productivity and reduce stress
Demonstrating how to stay Above the Line® to eliminate victim thinking
Marcie Van Note has a master's degree in Training and Performance Improvement. She has volunteered at many organizations including Association of Talent Development (ATD) and recently received a Lifetime Achievement award. Marcie works tirelessly to ensure employees and businesses work together to become successful. Marcie's style is described as engaging and original. She has the ability to get everyone involved in the learning process through interaction, humor, life experiences and passion. Marcie's personal philosophy is that learning is an ongoing process — never, ever stop learning.
For question or more information call 319-334-7497 or email BCEDC Director, Lisa Kremer, at director@growbuchanan.com