Energy Vampires Lunch & Learn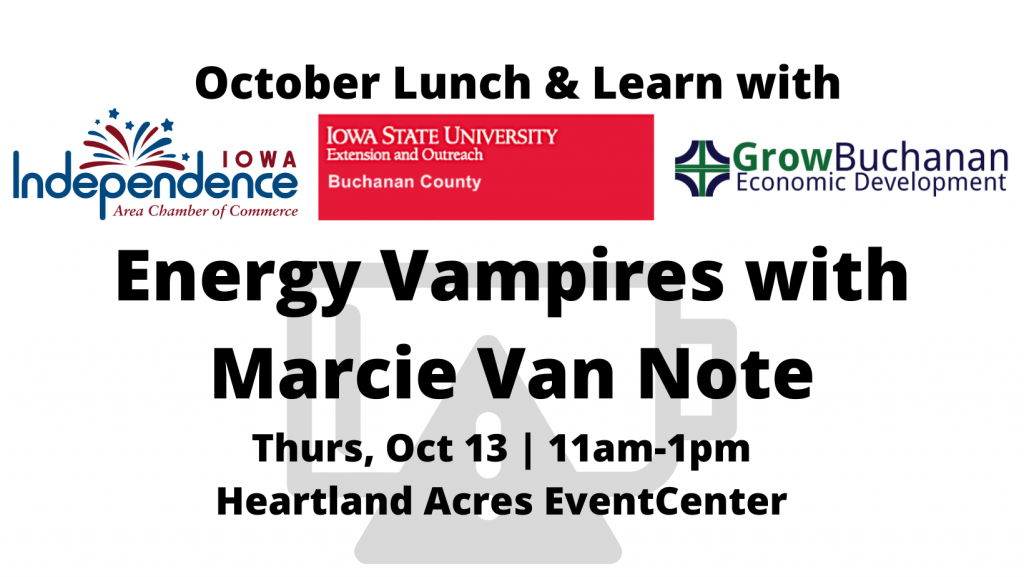 Join us along with Independence Area Chamber of Commerce and Buchanan County ISU Extension and Outreach for our upcoming Lunch and Learn. Marcie Van Note will present on Energy Vampires. We will meet at Heartland Acres Event Center on October 13, 2022 from 11am-1pm.
It has been an exhausting week at work. You're tired, depleted and just exhausted. Many people think that it's the task and responsibilities that are exhausting them. While work can be demanding, the real culprit is often the negativity of those around you.
Do you work with one of these, energy vampire, out-of control complainer, vicious viper, busy bee, disorganized dragger downer? If so, don't despair, whether you have a title or not there are ways to cope with the people around you that suck all the energy out of you. Learn some quick tips and tricks during this interactive session.
By the end of this session:
Participants will learn what is draining their energy
Practice some tips for dealing with Energy Vampires
Identify types of Energy Vampires
Marcie Van Note is the Program Director for the Business and Leadership Graduate Programs at Mt Mercy University and a consultant in Cedar Rapids, Iowa. She has been a leader in the human capital field for over 25 years with experience in senior leadership roles in human resources and training in both non-profit and for-profit organizations. She has presented at local and national conferences with an emphasis on talent development, leadership, change management, coaching, train the trainer, developing a positive culture, employee engagement and motivation. Marcie works tirelessly to ensure employees and businesses work together to become successful. Marcie's style is described as engaging and original. She has the ability to get everyone involved in the learning process through interaction, humor, life experiences and passion. Marcie's personal philosophy is that learning is an ongoing process — never, ever stop learning.
For question or more information call 319-334-7497 or email BCEDC Director, Lisa Kremer, at director@growbuchanan.com